At Radiance Skin Care Clinic, we carefully select our products to optimize our patients' skin health and benefits. Before we recommend any products, individual skin analyses are performed to provide a customized at-home skin care regimen promoting healthy, beautiful skin. Medical grade sun protection, proper cleansing of the skin, antioxidants and exfoliating products, along with small procedures such as facials and skin peelings are the perfect complement to any of Dr. Cherup's facial rejuvenation surgeries and are our best ally to extend the youthful appearance of the skin. Some of our favorite products include ingredients like vitamin C,vitamin A,glycolic acid, and hyaluronic acid.
La Roche-Posay
La Roche-Posay offers a unique sunscreen line that is suitable for sensitive skin. For over 15 years, Anthelios has been at the forefront of UV protection research developing revolutionary textures, enjoyable to wear to help stay safe in the sun.
MELT-IN SUNSCREEN MILK: Advanced Broad Spectrum sunscreen protection in a fast-absorbing, velvety texture.
With NEW Cell-Ox Shield XL™ antioxidant technology
Fast absorbing, non- greasy texture
Our best SPF60 sunscreen for face and body
Water resistant (80 minutes)
ULTRA LIGHT SUNSCREEN FLUID: Advanced Broad Spectrum sunscreen protection in a revolutionary ultra-light texture.
With NEW Cell-Ox Shield XL™ antioxidant technology
Fast absorbing, weightless texture, matte finish
SPF60 sunscreen for face, suitable for sensitive skin
Water resistant (80 minutes)
Visibly reduce the appearance of sun damage
Dr. Koo
Diminish Wrinkles. Decrease Pores. Lessen Pigmentation.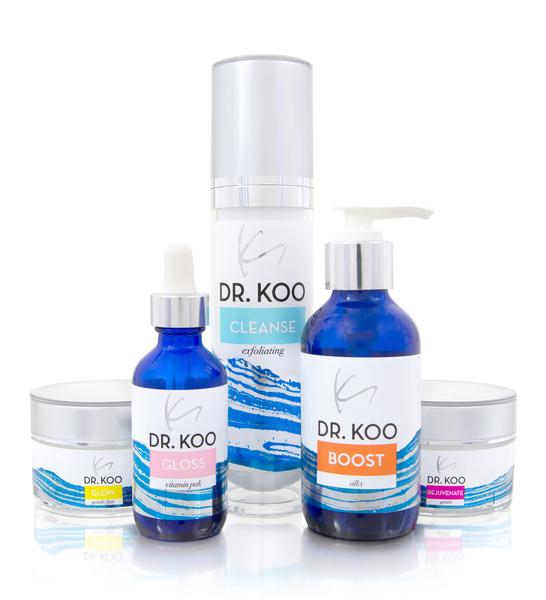 What makes these products different from the rest?
After 23 years of practice, Dr. Koo has seen countless products touting to be the next best thing come and go. After years of frustration over substandard products, she finally stepped into compounding a medical topical cosmeceutical line herself. Her philosophy is that of revolution not evolution. She is using the purest, most effective ingredients as well as unique and unsurpassed delivery systems, buffering, microsomes, nanoparticles, and chemical formulations to create the most powerful skincare treatment system. Why do this? Because SO much can be achieved with continued and preventive skin care. Dr. Koo wants her patients to have the best skin that they can possibly have. These premium formulations based on my years of experience are for those who want to look and feel better.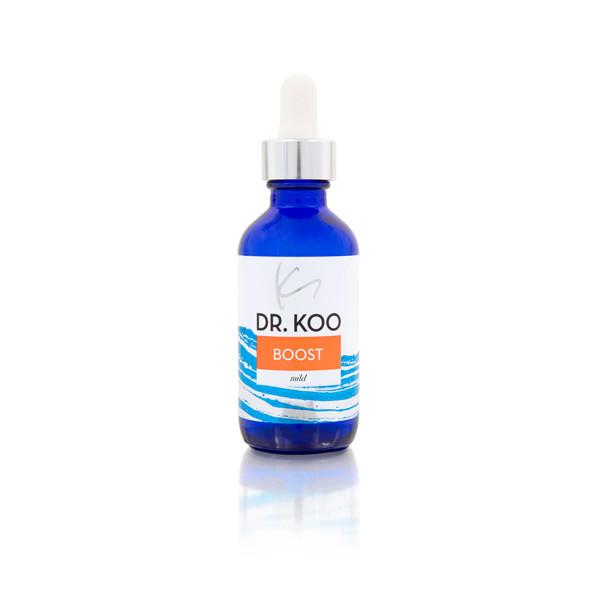 BOOST: Boost is a luxurious moisturizer. Every skin type, even oily acne prone skin needs moisture. Dr Koo's BOOST contains nutrients that create healthier firmer skin. The key is finding the appropriate moisturizer for your skin. Dr Koo's BOOST has five levels of nutrients designed specifically for dry skin, very dry skin, oily/acne prone skin, and combination/normal skin.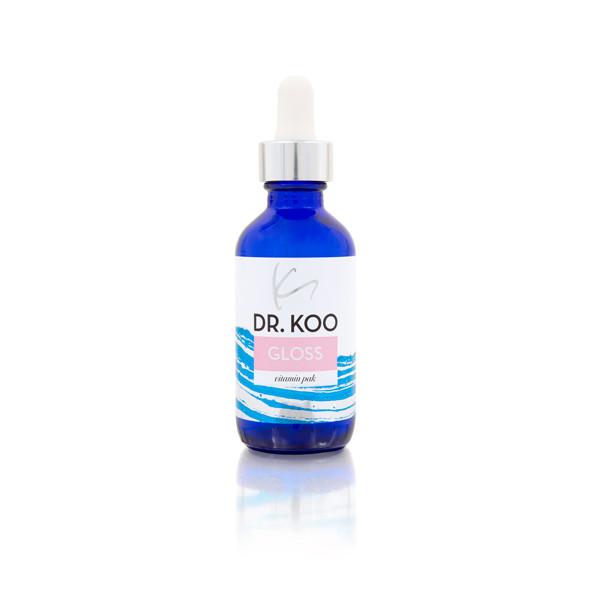 GLOSS — Anti-Oxidant Vitamin Serum:  This luxurious serum is packed with vitamin C, A, and E to stimulate skin cells to repair damage and generate new collagen. The vitamins counteract our daily exposure to environmental heavy metals, pollution, and toxins. GLOSS' unique vitamin formulation increases skin cell efficiency to create new collagen growth and to produce new fresh skin. GLOSS enhances hydration and health of the skin. This will plump the dermal skin layer, lessening wrinkles and firming the skin. USE GLOSS WITH YOUR BOOST MOISTURIZER for optimal results.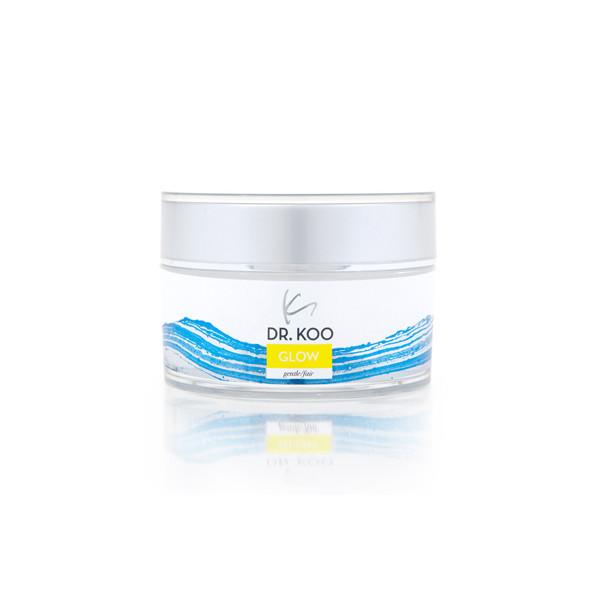 Glow
Dr Koo suggests starting with the most GENTLE GLOW product and advance to the appropriate level designed for your pigmentation level to maximize the results and minimize any possible irritation. Dr Koo has designed 3 levels of strength for your specific level of uneven color needs: Gentle/fair, advanced/medium, and ultra/dark.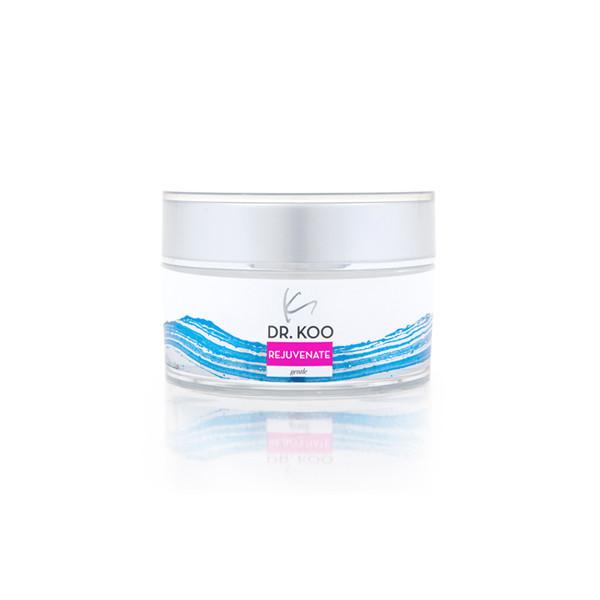 Rejuvenate:  Rejuvenate is a medical strength RETINOL based product designed with a proprietary formulation with additional anti-oxidants to stimulate skin cells to regenerate more rapidly and efficiently to replace damaged skin with younger, smoother healthier skin. Dr Koo's REJUVENATE increases the level of bio-actives that stimulate skin cells to produce more collagen.  The unique microsome formulation allows penetration of high percentage of retinol and ratios of other bio-actives to achieve maximum results without the typical irritation associated with retinol. The final result is dewy, firmer, tighter appearing skin with diminished wrinkles.
Dr Koo recommends starting with the GENTLE REJUVENATE and advance to the appropriate level of REJUVENATE designed for your age and damaged skin needs to maximize the results and minimize any possible irritation. Dr Koo has designed 4 levels of REJUVENATE to address the mildest to most severely damaged skin.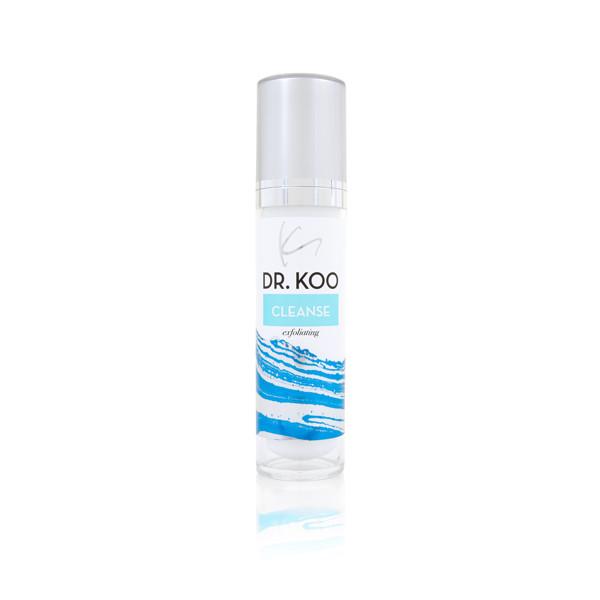 CLEANSE:  These gentle cleansers are all specially formulated to purify and refine pores, exfoliate unwanted cell layers to remove impurities, and prepare the skin to better absorb all the bio-active therapeutics in Dr Koo's entire line of skin products. Dr Koo has customized 4 different cleansers to optimize the clarifying needs of every type of skin. We are currently carrying CREAMY and EXFOLIATING.
SkinCeuticals
SkinCeuticals mission is "to provide advanced skincare back by science to prevent visible signs of aging, protect healthy skin, and correct the appearance of aging."* Used by leading dermatologists and plastic surgeons worldwide, Dr. Cherup and her Radiance Skin Care team are proud to offer the SkinCeuticals line to their patients.
Some of our favorites:
REPLENISHING CLEANSER
Dual-action face wash for combination skin with a ceramide complex deeply cleanses and locks in hydration to leave skin feeling replenished
PURIFYING CLEANSER
Conditioning cleansing gel with glycolic acid helps smooth skin texture while gently foaming to refresh skin and remove impurities
A.G.E. EYE COMPLEX FOR DARK CIRCLES
An anti-wrinkle eye cream to fight the appearance of crow's feet, dark circles, and puffiness
DAILY MOISTURIZER
A face moisturizer that provides normal to oily skin with lightweight, long-lasting hydration as it helps minimize the appearance of pores
MICROEXFOLIATING SCRUB
Smoothing exfoliating scrub with hydrated silica effectively cleanses pores and exfoliates to hydrate, soften, and improve skin texture
VITAMIN B5
An oil free hydrating serum replenishes moisture and restores radiance for a smoother complexion
CE FERULIC
A daytime vitamin C serum that delivers advanced environmental protection and improves the appearance of fine lines and wrinkles, loss of firmness, and brightens skin's complexion.
SKINCEUTICALS PRODUCTS OFFERED:
Replenish Cleanser
Gentle Cleanser
LHA Cleansing Gel
LHA Solution
A.G.E. Eye Complex
Purifying Cleanser
Conditioning Solution
Daily Moisturizer
Micro Exfoliating Scrub
Physical Fusion UV Defense Tint SPF 50
Vitamin B5
Vitamin C&E
Emolience
Epidermal Repair
Sport UV Defense SPF 50
Hydro Balm
Face and Body Moisturizer SPF 50
Call today and schedule your skin consultation with Radiance Skin Care!
Schedule a Consultation
Call Dr. Cherup at (412) 220-8181 or (877) 441-0639 or use our online form below.
From Our Patients…
"Professional, clean, calming and very holistic atmosphere."
Hours:
Monday: 9am - 3pm
Tuesday: 9am - 3pm
Wednesday: 9am - 3pm
Thursday: 9am - 3pm
Friday: 9am - 3pm
Saturday: 9am - 2pm
Sunday: Closed
Radiance Plastic Surgery
701 Boyce Road at Washington Pike
Bridgeville, Pennsylvania 15017
Click For Directions
(412) 220-8181
Ohio Valley Medical Building Branch Office
27 Heckel Road, Suite 106
McKees Rocks, Pennsylvania 15136
We are proud to introduce to you our haven of health, beauty, and safe surgery – Radiance – Private Outpatient Surgery Center. Radiance Surgery Center has undergone the most stringent evaluations and inspections, such as those our local and university hospitals have undergone. The Pennsylvania State Department of Health, Medicare, and the Joint Commission for Accreditation of Hospitals have licensed Radiance Surgery Center as a first-class surgical center, and we will be able to bill for all third-party insurance plans for facility fees for reconstructive surgery. Read More.